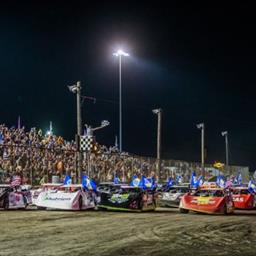 7/4/2023 - Tri City Speedway
Granite City, IL
Tuesday July 4, 2023
Summer Nationals #2 UMP LM $5k/Summit Mods $1500/B-Mods (HART Series) $1k/4cyl $300 plus FIREWORKS!!!!!!!
GA Adults $25
GA Kids (12 and Under) FREE
(ALL seats are GENERAL ADMISSION - NO reserved)
No Coolers Allowed
FREE Camping (no hookups)
FREE Parking
Pit Passes $40
Kids Pit Passes (6-12) $15
Kids Pit Passes (5 and Under) FREE
Fun For Families!!!!!
Driver Dunk Tank - Fans Dunk some Driver's
School Bus rides on the track
Face Painting
Buzz Light & Woody
Mickey & Minnie
Sponge Bob
Lots more fun TBA
22 lucky kids names will be chosen at 6:00 by their ticket number from the Front gate to be teamed up with a Driver from the A-Main.
The 22 kids will get to meet their driver before the race in the pits. Take photos and get autographs.
Also the winner of the A-Main the kids ticket winner will get to to Victory Lane and present the Trophy.
Questions:
Call or Text Tammy Gundaker 636-448-9111
NAPA Late Models

29 entries

Modifieds

37 entries

DIRTcar Modified Nationals

PureCool HART Limited Modified Series

27 entries

4 Cylinders

16 entries
Full Event Information on MyRacePass
Competitor Overview
---

| PureCool HART Limited Modified Series | Start | Finish | +/- |
| --- | --- | --- | --- |
| A Feature 1 | 4 | 2 | 2 |
| Heat 2 | 1 | 1 | - |
PureCool HART Limited Modified Series
Finish
Start
#
Competitor
Hometown
+/-
1
2
69
Treb Jacoby O'fallon, MO
O'fallon, MO
1
2
4
9
Ken Schrader Fenton, MO
Fenton, MO
2
3
5
42
Clint Young Ava, IL
Ava, IL
2
4
1
0K
Damian Kiefer Ste Genevieve, MO
Ste Genevieve, MO
-3
5
6
13
Zach Whaley Hillsboro, MO
Hillsboro, MO
1
6
7
26S
Paulie Schrempf III Pevely, MO
Pevely, MO
1
7
9
C4
Chris Soutiea Pevely, MO
Pevely, MO
2
8
11
Z24
Zach Taylor Springfield, IL
Springfield, IL
3
9
10
83S
Chris Stahlschmidt Brighton, IL
Brighton, IL
1
10
14
1
Cole Cygan St Jacob, IL
St Jacob, IL
4
11
13
52
Joe Rudy Kirkwood, MO
Kirkwood, MO
2
12
16
19C
Aaron Canterberry Farmington, MO
Farmington, MO
4
13
18
88J
Joshua Dolenz St. Louis, MO
St. Louis, MO
5
14
12
14G
Tommy Gaither Alton, IL
Alton, IL
-2
15
15
11
Alex Cygan St. Jacob, IL
St. Jacob, IL
-
16
3
67
Austin Seets Brighton, IL
Brighton, IL
-13
17
8
74
James Hileman Granite City, IL
Granite City, IL
-9
18
17
19
Jimmy Cummins Highland, IL
Highland, IL
-1
19
20
27
Jessy Snyders Alton, IL
Alton, IL
1
20
19
51S
Bob Stanton Godfrey, IL
Godfrey, IL
-1
Finish
Start
#
Competitor
Hometown
+/-
1
4
19C
Aaron Canterberry Farmington, MO
Farmington, MO
3
2
2
19
Jimmy Cummins Highland, IL
Highland, IL
-
3
5
88J
Joshua Dolenz St. Louis, MO
St. Louis, MO
2
4
7
51S
Bob Stanton Godfrey, IL
Godfrey, IL
3
Top 4 transfer
5
1
79
Nathan Wright Farmington, MO
Farmington, MO
-4
6
6
15G
Zach Gaither Alton, IL
Alton, IL
-
7
3
80
Tony Walker Brighton, IL
Brighton, IL
-4
8
9
4
T.J. Vonder Haar Arnold, MO
Arnold, MO
1
DNS
8
22
Pondrio Anderson Alton, IL
Alton, IL
-
DNS
10
17E
Matthew Edler St. Louis, MO
St. Louis, MO
-
DNS
11
1M
Dylan Politte Bonne Terre, MO
Bonne Terre, MO
-
Finish
Start
#
Competitor
Hometown
+/-
1
4
69
Treb Jacoby O'fallon, MO
O'fallon, MO
3
2
6
67
Austin Seets Brighton, IL
Brighton, IL
4
3
1
14G
Tommy Gaither Alton, IL
Alton, IL
-2
4
7
C4
Chris Soutiea Pevely, MO
Pevely, MO
3
5
3
11
Alex Cygan St. Jacob, IL
St. Jacob, IL
-2
6
9
52
Joe Rudy Kirkwood, MO
Kirkwood, MO
3
7
5
19C
Aaron Canterberry Farmington, MO
Farmington, MO
-2
8
8
15G
Zach Gaither Alton, IL
Alton, IL
-
DNS
2
1M
Dylan Politte Bonne Terre, MO
Bonne Terre, MO
-
Finish
Start
#
Competitor
Hometown
+/-
1
1
9
Ken Schrader Fenton, MO
Fenton, MO
-
2
7
42
Clint Young Ava, IL
Ava, IL
5
3
8
13
Zach Whaley Hillsboro, MO
Hillsboro, MO
5
4
5
Z24
Zach Taylor Springfield, IL
Springfield, IL
1
5
2
79
Nathan Wright Farmington, MO
Farmington, MO
-3
6
3
19
Jimmy Cummins Highland, IL
Highland, IL
-3
7
4
88J
Joshua Dolenz St. Louis, MO
St. Louis, MO
-3
8
6
51S
Bob Stanton Godfrey, IL
Godfrey, IL
-2
9
9
4
T.J. Vonder Haar Arnold, MO
Arnold, MO
-
Finish
Start
#
Competitor
Hometown
+/-
1
2
0K
Damian Kiefer Ste Genevieve, MO
Ste Genevieve, MO
1
2
4
26S
Paulie Schrempf III Pevely, MO
Pevely, MO
2
3
6
74
James Hileman Granite City, IL
Granite City, IL
3
4
1
1
Cole Cygan St Jacob, IL
St Jacob, IL
-3
5
8
83S
Chris Stahlschmidt Brighton, IL
Brighton, IL
3
6
3
80
Tony Walker Brighton, IL
Brighton, IL
-3
7
9
27
Jessy Snyders Alton, IL
Alton, IL
2
8
5
22
Pondrio Anderson Alton, IL
Alton, IL
-3
9
7
17E
Matthew Edler St. Louis, MO
St. Louis, MO
-2