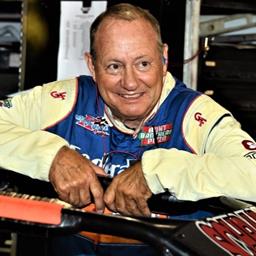 ---
Schrader Second at Red Hill and DuQuoin
Ken Schrader opened his Labor Day weekend of racing action on Friday evening at Red Hill Raceay (Sumner, Ill.), where he was pulling double duty in the DIRTcar UMP Modified and B-Mod divisions.
In DIRTcar UMP Modified action, 24 entries took part in the event, and after qualifying seventh fastest Ken slipped to an eighth-place finish in his heat race. Starting at the tail of the feature he retired after the first circuit to a 22nd-place finish.
In the B-Mod division he enjoyed much better luck. After winning his heat race from the fifth-starting spot, Schrader crossed the finish line in the 20-lap in the second position behind Damian Kiefer with Larry Anderson, Dan Wheeler, and Bill Dugger completing the Top-5 finishers.
Ken then went into battle in the DIRTcar Modified at the DuQuoin (Ill.) State Fairgrounds in the DIRTcar UMP Modified ranks on Saturday and Sunday. He struggled to get the car to run in qualifying and ultimately retired to a fourth-place finish in his heat race, which positioned him eighth on the starting grid for Sunday's finale.
For the 15-lap finale on Sunday, Schrader rectified the gremlins in his No. 9 Federated Auto Parts Modified and charged to a second-place finish behind Treb Jacoby with Jim Shipman, Rayce Baker, and Rick Weitekamp rounding out the Top-5 finishers.
Full results are available at www.RedHillRaceway.racing and www.MyRacePass.com.
Back to News