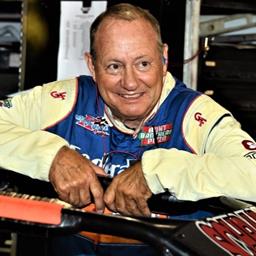 ---
Schrader Second in Tri-City's B-Mod Bash; Wins Prelim
Ken Schrader rolled into Tri-City Speedway over the weekend for the Brad Yotter Memorial Summit B-Mod Bash. After seeing an Open Practice Session on Thursday, the event kicked into high gear on Friday with a whopping 81 entries in the pits.
Ken hit the ground running by setting fast time in his qualifying group before winning his heat race to earn the pole for his qualifying feature. He ran second behind fellow front row starter Dan Bimson until lap 17 when Schrader jumped to the lead and ultimately the win.
He was followed across the finish line by Bimson, Shad Prescott, Terry Chester, and Kodi Savage.
On Saturday evening Schrader raced into the $3,000-to-win finale via a qualifier win. After starting fourth he advanced to a second-place finish behind winner, Trey Harris with Chris Osborne, Chris Soutiea, and Earl Pryor completing the Top-5 finishers.
Back to News